The Ultimate Barbecue Crawl in Fairfax

Memorial Day weekend is one of the most popular grilling weekends of the year. To help you join in on the fun, we've put together a
Safford of Springfield approved barbecue crawl for Fairfax County. Spend the
weekend driving to different areas of the county,
sharing experiences with your family, and enjoying some of the best BBQ spots
around.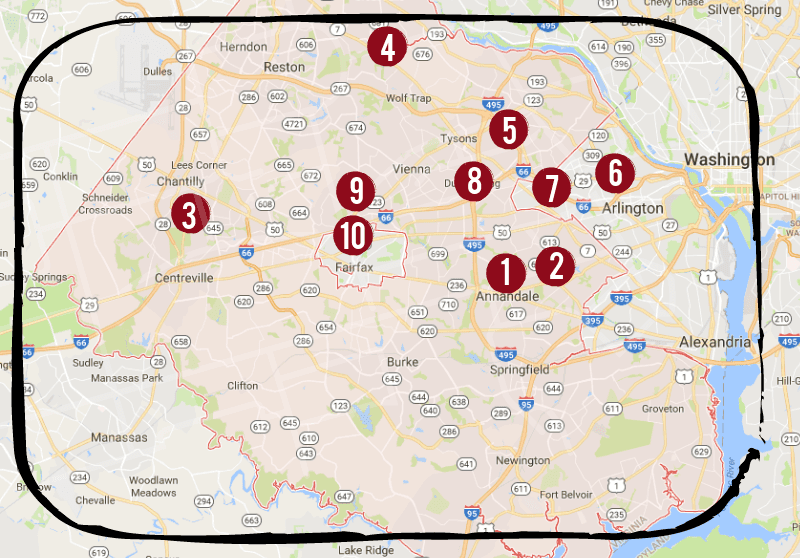 4220-A Annandale Rd, Annandale, VA 22003
We are starting the crawl off with something unexpected:
Korean BBQ at Kogiya. This family-owned restaurant is authentic and
modern with a large menu to choose from. Meats range from pork belly and short ribs to spicy octopus. Be sure to pace
yourself here. The portions are generous.
Honey Pig Korean BBQ
7220 Columbia Pke,
Annandale, VA 22003
We chose Honey Pig for the second stop. This place is known
in the area as a hip and lively restaurant to visit for a late night meal, as it's open 24 hours.  All BBQ is served with complimentary side dishes like kimchi and rice, and the meat is cooked right there at your table. Hanna Kuark, Chief Marketing Officer at Honey Pig says, "We are very fortunate
and proud of the community that has been built over the years. Quality is foremost and everything else falls into place
when you are proud of what you are serving."
Willard's BBQ | 4300 Chantilly Shopping Center #1A, Chantilly,
VA 20151
We chose a local hang out spot in Chantilly for stop number three. Willard's BBQ serves up barbecue platters, ribs, sandwiches, and more at an affordable price. Willard's is a no frills, down-home
BBQ joint that always brings a crowd.
Mookie's BBQ | 1141 Walker Rd, Great Falls, VA 22066
Mookie's is a fun, family-friendly restaurant that
keeps people coming back for more. With their location away from the highway,
the atmosphere is laid back and inviting with their outdoor seating. Mookie's
is especially known for their barbecue beef and pork.
Texas Jack's | 2761 Washington Blvd, Arlington, VA 22201
Texas Jack's is known for their St. Louis-style of BBQ. Their communal style of dining creates a
family dining experience that you would expect at home. People are always raving about their smoked brisket and sausage. Did you know Texas Jacks was named after a cowboy named John B. Omohundro from Virginia? <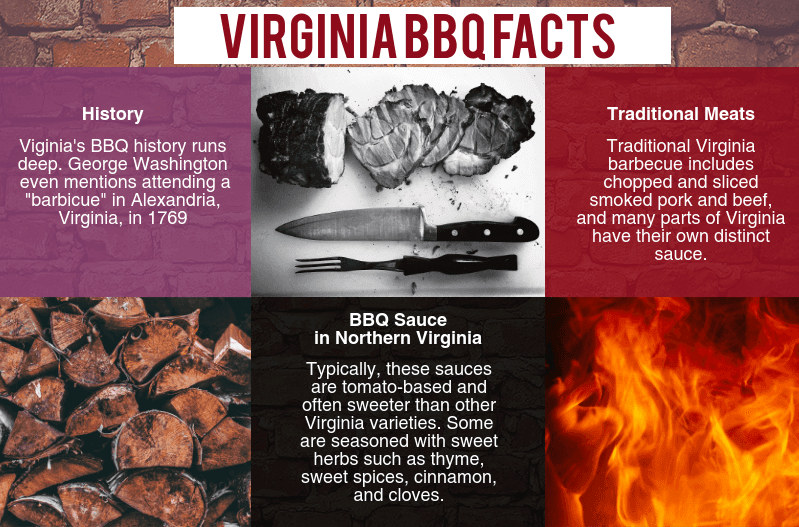 Rockland's Barbeque | 25 S Quaker Ln, Alexandria, VA 22314 Known for their variety
of hot sauces and delectable brisket and ribs, Rockland's Barbeque is
definitely a must try. People rave about the smoky flavor in their barbecue
Backyard BBQ | 25 S Quaker Ln, Alexandria, VA 22314
Backyard BBQ is famously known for their take-out. As stop number seven, pick up some food to go and find a nice park or shady area to enjoy your food picnic style. Nothing screams summer more than eating BBQ outside with your family. Don't forget to try their jalapeno cornbread to go with it.
Oklahoma Joe's Bar-B-Cue 2670 Avenir PL O, Vienna, VA 22180
Only two more stops to go—we hope you're ready for ribs, ribs, and more ribs. That's the winning ticket item here at Oklahoma Joe's. The location is prime and portions are generous. Just make sure you have plenty of napkins because you're going to want to dive in!
Famous Dave's Bar-B-Que 2910 Chain Bridge Rd, Oakton, VA 22124
The always reliable Famous Dave's Bar-B Que never disappoints. Famous Dave's serves up a variety of options from burgers and sandwiches to catfish, but of course, the ribs and brisket are amazing.
Red Hot & Blue 4150 Chain Bridge Rd, Fairfax, VA 22030-4104
Stop number ten, the last stop on the crawl, lands you in the heart of Fairfax. Red Hot & Blue is a Memphis-style barbecue restaurant known for their pulled pork and award winning ribs. Settle down with some bread pudding for dessert as you end your journey. Here at Safford of Springfield, we care about our community and want to support local businesses in Fairfax
County. Share this ultimate barbecue crawl with your friends and family and
make your Memorial weekend plans today.