The Quirky and True Story Behind the World's Largest Jeep
World's Largest Jeep
The story behind the World's Largest Jeep is quirky, for sure, but true!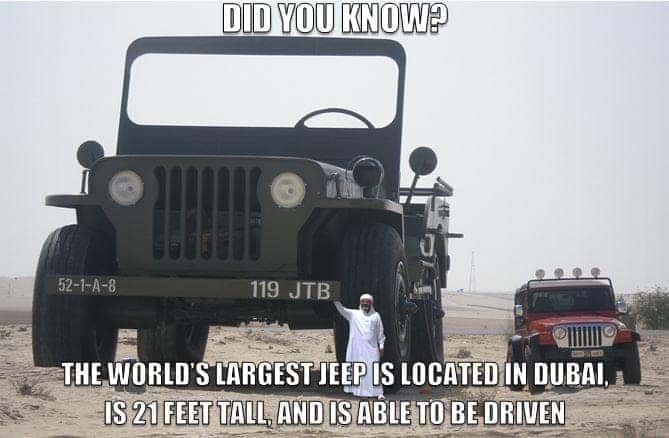 Looking completely at home in the surrounding desert sands of the United Arab Emirates, this World War II-era Willys Jeep is an exact replica of the original – except that it's four times the size. Standing more than 20 feet tall and weighing in at 4.4 tons, this Jeep doesn't just look the part: it's also completely drivable. It was built by Sheikh Hamad bin Hamdan Al Nahyan, a member of the royal family of Abu Dhabi in the United Arab Emirates.
It took just over two years to complete the Willys Jeep, including the finishing details like the shovel and axe attached to the driver's side rail, just as on the original. The driving controls were placed just behind the classic 7-slat grill, giving the driver a marginally obstructed view of what's in front. As with most things the Sheikh undertakes, no expense was spared in the creation of this monolithic tribute.
We know what you're probably thinking at this point. Sure, this guy can afford to not only build a Jeep of this size but to fill up the tank and drive it – he's sitting on top of an ocean of oil! If there's one thing the Middle East doesn't lack for, it's petroleum products.
Although he won't say what the exact final cost was, we know that the earthmover tires alone can cost around $40,000 each. The finishing touches were completed in 2010, and the Guinness World Records Committee certified it on November 30th of that year as the world's largest functioning Jeep replica.
The first question that might occur to someone who encounters this behemoth Jeep in a desert in the Middle East would probably be something along the lines of… why?  As it turns out, the Sheikh just happens to be a fan of all things automotive, and especially of American-made trucks and Jeeps. In fact, prior to building this massive replica in honor of the classic Willys Jeep, the Sheikh also built a replica of a Dodge Power Wagon from the 1950s, at eight-times the original size.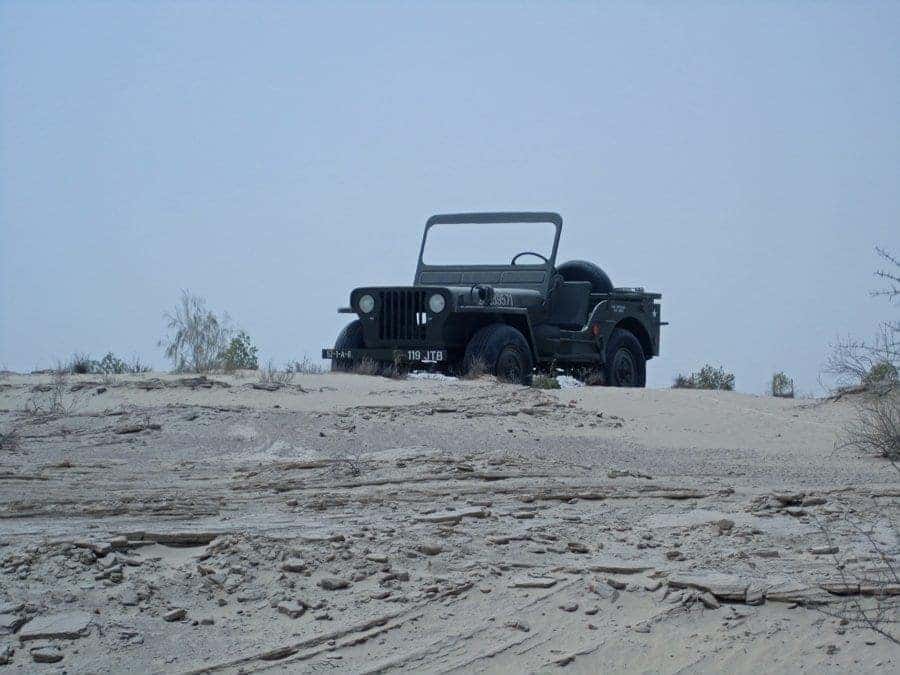 The eccentric Sheikh Hamad is affectionately known as the "Rainbow Sheikh" for the seven custom-built Mercedes 500 SEL sedans he had made, each in a color of the rainbow. He is also the owner of between 300 and 400 other vehicles of various types and sizes, all housed in a pyramid-shaped car museum he had built just outside of Abu Dhabi. The museum is open to the public and is free of charge. If you can't make it to the museum, Business Insider compiled plenty of photos here.
For more about our 'normal' sized Jeeps, check out our new inventory!