The Commuters Guide From Springfield, VA to D.C.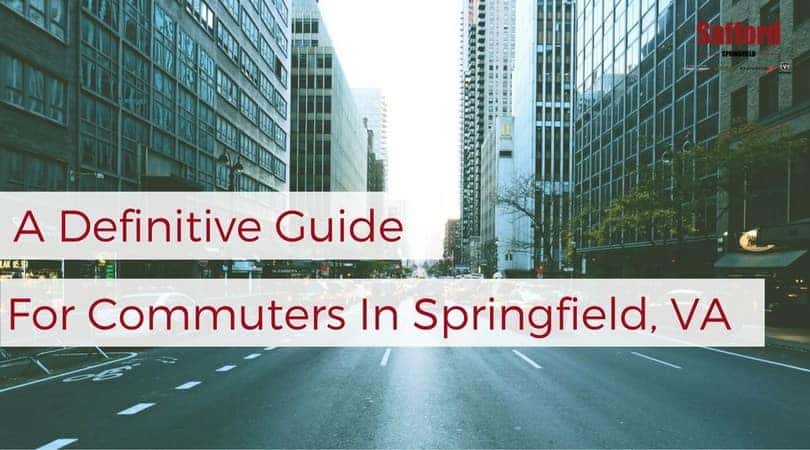 Springfield, Virginia, is one of the best locations to live for commuters traveling to Washington, D.C. With quick access to major highways and main interchanges, the average Springfield commuter can make it work in the D.C. area in an average 28 to 30 minutes, depending on traffic flow. So, as a commuter town, we thought we would give you some commuting tips for your daily drive, starting with the popular Mixing Bowl.
The Springfield
Interchange is commonly called the Mixing Bowl by locals. Located in
Fairfax County, Virginia, this interchange is 10 miles from Washington, D.C.
Every day, about 430,000 vehicles pass through the Springfield Interchange,
where I-95, I-395 and I-495 come together. A long construction project starting
in 1999 and ended in 2007 improved on-ramps and HOV lanes to decrease traffic.
However, the swirling bowl of vehicles can still a cause of major headache for
daily commuters. Here are some tips before you head out the door:
Stay Informed
Check on

Current Construction

schedules and plan your
routes accordingly.
For real time traffic updates from VDOT sources,
download the

Road Conditions 511 app

. The 511 app is also
available on Android.
Check out these HOV routes for a
faster commute. Be sure to read to rules and regulations properly because
different routes have different rules.
Avoiding the Mixing Bowl
In peak hours or during major delays,
there are ways of avoiding the Mixing Bowl altogether. We recommend taking these alternative routes
to Washington, D.C.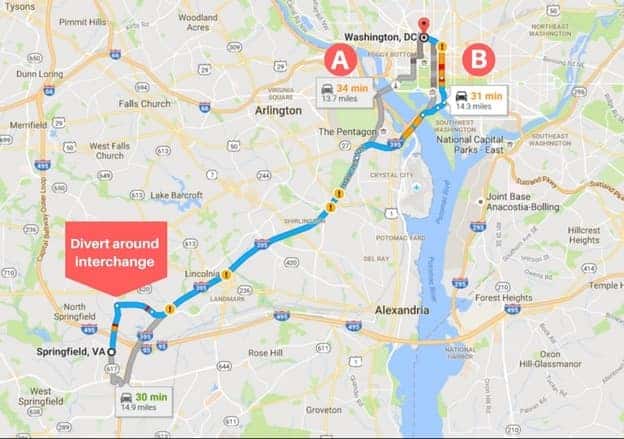 Route A  diverts you around the interchange, and you
should continue on 1-395 N to S Washington Boulevard in Arlington. Take Exit 8A
from I-395 N. Get on US-50E/Arlington Boulevard. Continue on US-50 E/Arlington
Blvd. Continue until you reach the exit toward E St from I-66 E/US-50 E.
Continue and take 18th St. NW until you reach Washington, D.C.
Route B also diverts you around
the interchange, and you continue on I-395 N to Washington Boulevard. Continue
on Washington Boulevard. Take Arlington Memorial Brid­­­ge to Constitution Avenue
NW.  Use any lane to turn right on Constitution Avenue NW. Continue on 18th St. NW driving into
Washington, D.C.
General Commuting Tips:
Emergency vehicle etiquette
Virginia law requires drivers to immediately
drive to the nearest edge of the roadway, clear any intersection, and stop
whenever an emergency vehicle with warning lights and siren operating is
approaching. Drivers must remain stopped until the emergency vehicle has passed
and no other emergency equipment is in sight.
Save on fuel
Fun
Fact: Shift to Neutral When Stopped: Shifting your automatic or manual transmission
into neutral calms down your engine note and drops the rpm. This saves gas.
Shift into neutral even for a long traffic light.
Make your time more valuable
Here are some recommendations on how to
make your time during your commute more valuable and enjoyable:
Put on
some good tunes
We've put together
this exclusive morning commute playlist just for you. Listen on Spotify
and start you day off with a little more pep in your step.
Listen to educational podcasts or eBooks. 
Check out our Top Five Off- Road Podcast to Listen to During Your Commute blog post. If you love everything 4×4, these podcasts are for you.
Keep your stress level down. 
If you feel road rage coming about, here are some
calming practices:
Roll your shoulders
down and back and open up your chest. Do this stretching technique until your
tense shoulders feel more relaxed.

 

Breathe. 

Deep
breathing is one of the easiest things you can do to calm your nerves. Breathe
in slowly through your nose and exhale through your mouth.

   

Download the Calm
app. This app features relaxing sounds of birds chirping and soothing rain
that can help refocus your energy. The app also hosts guided meditation
practices that you can use throughout the day.

Reward
Yourself With a Cup of Joe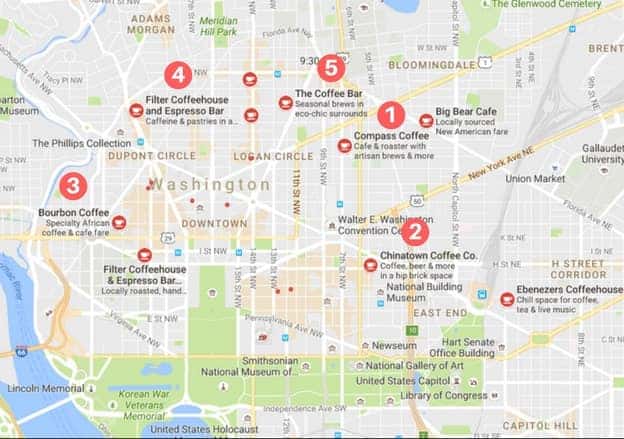 Don't forget to reward yourself from time to
time. Little things like stopping in for a specialty coffee can change up your
commuting routine. Here are some of our recommendations in the Washington, D.C.
area:
Compass Coffee: Compass Coffee is a local shop with a
goal to start your day off right and make sure it keeps going in the right
direction, which makes its name so fitting.
Chinatown Coffee Co.: This specialty coffee bar serves
up great coffee and pastries.
Bourbon Coffee: Founded in 2007 in Rwanda, this
international brand of specialty coffee serves up African beans from "crop
to cup."
Filter Coffeehouse and Espresso Bar: Filter Coffeehouse
is another local spot that is passionate about the main ingredient: coffee.

The Coffee Bar: The coffee bar is in a historic
building built in 1880, serving up specialty coffee in a cozy atmosphere.
Choose Your Vehicle
Wisely
Most importantly, you need a vehicle that fits your commuting needs.
If you're in a vehicle that isn't performing well, you will always dread your
daily drive. Here at Safford of Springfield we have a large selection of
vehicles that can certainly do the job effectively and efficiently. Contact us today!