Safford of Springfield's Fantasy Football Draft: Vehicle Edition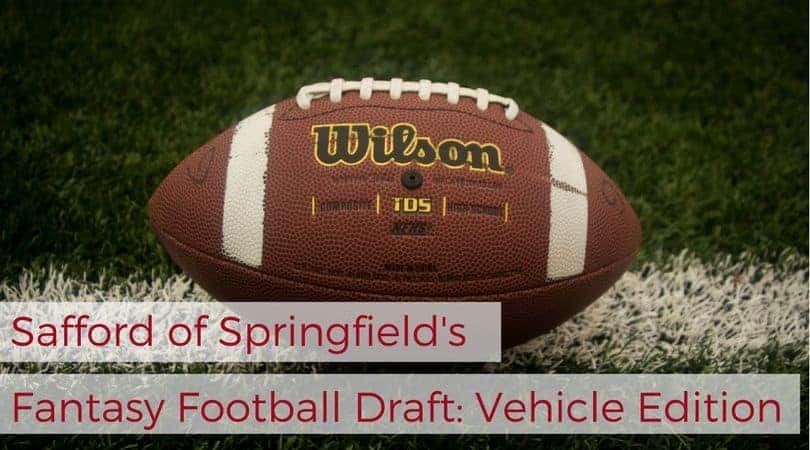 Football season has arrived and there's no better way to
join in on the competitive nature of the season than with a good 'ole fantasy
football draft. This year, we decided to mix things up a bit and put the
Safford of Springfield twist on the game.
Instead of selecting players for our draft, we picked the
top-performing Chrysler, Jeep, Dodge, and Ram vehicles for each position. Our
choices were based on the attributes and duties of each football position along
with the corresponding vehicle features and specs.
Fantasy Football Draft – Chrysler, Jeep, Dodge, Ram Edition

Offensive Players
Let's begin with the offense. These are the guys who will bring
your team to victory. You want them to be big, tough, fast, strong, and smart –
just to scratch the surface. Our starting lineup predominately features Jeep
and Dodge models with a few Rams and Chryslers thrown in for protection.

The quarterback is your leader – the playmaker and
foundation for your team. You want someone (or some vehicle) in this position
that the team can look to in times of crisis for guidance and direction. Of
course, we chose Old Reliable, the Jeep Grand Cherokee. Since the first model
release in 1998, Jeep Grand Cherokee has been a favorite in the Jeep community.
It's easy maneuverability and quick braking features make this vehicle a great
choice for quarterback.

Jeep was an easy choice to fill the running back position.
When selecting a running back for your fantasy football team, it's important to
pick a team player, someone who works well with their quarterback, and who can
easily maneuver across the field to catch a pass or run the ball. The 2018 Jeep
Compass Latitude SUV is a fantastic selection for this position. With good gas
mileage, a quality transmission and engine, and stability and traction control,
this vehicle is adept at making quick decisions and navigating the roadways
without getting worn down.

The fullback position should be filled with a versatile
player – one who can run short distances to catch a pass and block against
strong, sturdy defensive linesmen. The 2018 Dodge Charger R/T 392 Sedan was a
great fit for this position. Dodge Chargers are built to maintain high performance
and toughness – perfect qualities for a fullback.

Staying in the Dodge family, we selected the 2018 Dodge
Challenger R/T 392 Coupe as our halfback. With its V8
powered engine, this car is tough and fast. Its horsepower capabilities make it
easy to picture this Challenger weaving through the defensive line, catching
passes, and blocking linemen with force.

With one look at the 2018 Chrysler 300 Touring Sedan, it's
easy to see its power and prestige. When choosing a tight end, it's important
to select a powerhouse player, someone who can block the toughest defensive
linemen and have the speed to catch anyone who gets away. With its V6 engine
and traction control, the Chrysler 300 was built for the job.

We all know pass receivers need to be quick on their feet
and trustworthy. The QB needs to be able to trust that the wide receiver will be
in position by the time he has to throw the ball. The 2018 Dodge Challenger
Coupe is a great choice to fill this spot. With blind spot and cross path detection
as well as a V6 engine, this vehicle is quick and agile. Its gas efficiency on
the highway would allow it to withstand the physical exertion a wide receiver
withstands during each game.

Reliable, long-lasting, tough, and smart are all characteristics
of centers and of Ram trucks. The player in the center position handles the
ball on every play. He snaps it back to the QB and protects him from the
defensive line. The 2018 Ram 3500 Laramie Longhorn Truck Crew Cab would be a
top-performing center in any league. This tough truck would be a powerful
addition to the offensive line while its 6.7L I6 Cummins Turbo Diesel engine
gives it the reliability a center needs.

When looking for a car that can get down and dirty, the Jeep
Wrangler quickly comes to mind. Built for off-roading and toughness, the 2017
Jeep Wrangler Unlimited Rubicon 4×4 SUV would be a perfect fit for an offensive
tackle. Able to stand up against the toughest vehicles and maneuver the field
with ease, this SUV is not one to overlook.

Our final offensive position is the guard. Charged with
protecting the QB and ball carriers, this player must be one of the toughest
players on the field, which is why we chose the 2018 Ram 2500 Laramie Truck
Crew Cab. Larger than the 1500, yet smaller than the 3500, this truck would be
able to take down defensive linemen and catch up to players threatening his
ball carriers.
Defensive Players
Your defense needs to be an equal match to your offense.
These guys will keep opponents from running away with the game. You want them
to be big, sturdy, tough, agile, and intimidating. To keep the team balanced,
our starting defensive lineup predominately features Chrysler and Ram models
with a few Jeep and Dodge vehicles mixed in for speed.

When picking a linebacker, it's important to look for a
handyman of sorts. This player must be versatile enough to defend against
running and passing plays. What better choice to fill the linebacker position
than the 2017 Dodge Durango Citadel SUV? With a strong engine, 8-speed
automatic transmission, good gas mileage, and built-in stability, this SUV is
nothing short of a reliable handyman.

A defensive tackle needs to be intimidating – someone able
to scare the QB. This player needs to be able to stand his ground against the
offensive line to prevent a running play or break through the line to take down
the QB before he can throw or run the ball. The 2018 Ram 3500 Truck Crew Cab
would be an appropriate pick for this position. This truck is tougher than
tough and intimidating enough to make any vehicle nervous.

Jeeps are back on the scene for the defensive end position.
This player must be strong enough to fend off offensive blocks and quick enough
to tackle the QB from behind. The 2017 Jeep Patriot Sport 4×4 SUV has both
capabilities. With its efficient gas mileage, it can outlast many other
vehicles. It is sturdy enough to stand up against other vehicles and quick
enough to run the short distance to overcome a QB.

While the 2017 Jeep Renegade Latitude 4×4 SUV might look too
cute for football, don't let its appearance fool you. This SUV is tough and its
light body makes it a worthy contender for defensive back. This position needs
to be filled by a versatile player who can tackle runners and receivers. Features
such as blind spot and cross path detection make the Jeep Renegade a worthy
contender for the defensive back position.

While many would not draft a van in a fantasy football
league, the 2017 Chrysler Pacifica Limited Van is an ideal choice to fill the safety
position. The safety needs to be able to anticipate offensive plays and tackle
players coming from any direction. When choosing the last line of defense, it's
a smart choice to go with a sturdy, reliable, and safe van.

Last, but not least, we have the cornerback. This player
needs to be able to combat the offensive receivers, tackling them before they
can catch a pass. Quick acceleration, speed, and instincts are must-have
qualities for a cornerback. Luckily, the 2017 Ram 1500 Tradesman Truck Crew Cab
can easily fill the shoes of a cornerback. With a powerful V8 engine, easy rear
visibility, and the toughness guaranteed by any Ram truck, the 1500 Tradesman
would be a fearsome opponent on the football field.
There you have it, our 2017 fantasy football draft picks.
With a variety of models from Chrysler, Jeep, Dodge, and Ram, our team is a
force to be reckoned with both on and off the field. Are there any CJDR models
that you think would be a better fit for any position? Comment below with your
draft choices.
If you're in the market for your next vehicle, whether it be
a quarterback or a defensive tackle, come by for a test drive or view our inventory online.
Already own a Chrysler, Jeep, Dodge, or Ram? Stop by our Auto Repair Service Center for a check-up.  We'd
love to show you the market value
for your vehicle today so you can upgrade to one of these top-performing draft picks.