New Year's Resolution: Take Better Care of My Vehicle in 2017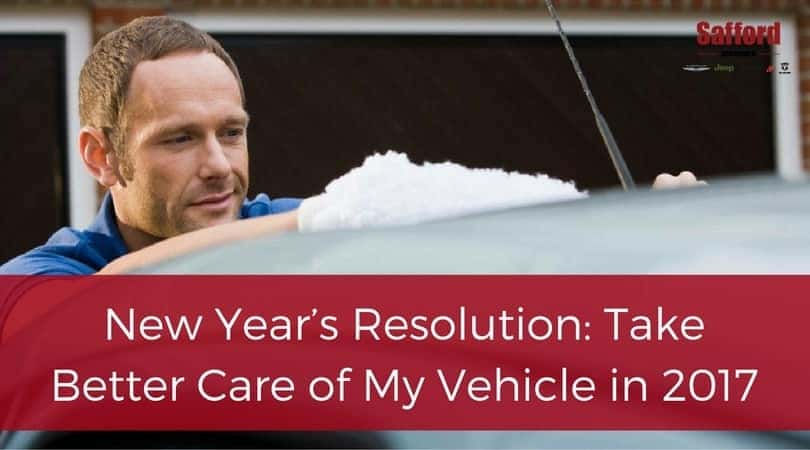 Many people make New Year's resolutions to eat healthier or
work out more often. However, not very many
people think of their vehicles when ringing in the new year. Your vehicle is crucial in your day-to-day
life. So if you fell short in taking
care of your vehicle in 2016, this is the year to make up for it with Safford
of Springfield's new service
specials!
Extend the life of your tires
When was the last time you had your tires rotated or
realigned? An oil change or service appointment is the perfect time to align
and rotate your tires.
Rotating your tires helps ensure your tires wear evenly, extending their lifespan and keeping you safe.  Also, during a tire rotation, a service
technician will check for correct tire pressures, and inspect your tires for
unusual wear or damage. 

**Click here to print from service page
As far as wheel alignments go, we recommend having the
service done once a year or every 12,000 miles. However, there are some
instances when you may have your alignment checked more often, like if you feel
the vehicle continuously pulling off to one side or if you hit a curb or large
pot hole. These are both indicators that you may need to get your wheel
alignment checked. 
  
**Click here to print from service page
Start the year off right with software updates
Software
updates ensure your computer and safety systems are working correctly. Vehicle
software systems continue to evolve and have become more complex, so getting software
updates is that much more important for your vehicle's functionality.  At Safford of Springfield, we offer a free
vehicle software check with the coupon below.

**Click here to print from service page
General maintenance and additional services
General maintenance can prevent larger, more costly problems
form arising with your vehicle. Get on track by getting your battery, brake pads,
windshield wipers, air filters, and tires checked. Also, checking for recalls
on a regular basis should be part of your general maintenance routine. If you
bring your vehicle in for a recall check, receive 10% off any additional services
performed during the check. 
We hope this article has inspired you to take care of your
vehicle in 2017. Safford of Springfield makes it easy to stay on track with our online service
scheduling system.  For additional information please contact our service department 844-344-9042. Happy New
Year!