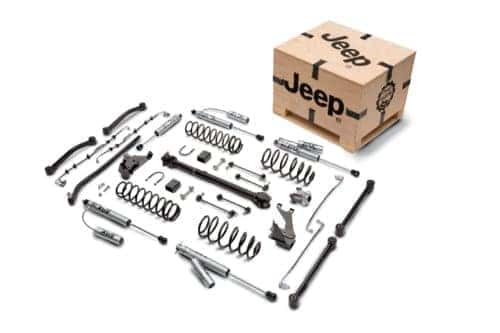 Mopar Lift Kits
If you're exploring the great outdoors in your Jeep and you come across some boulders, you have two options. You can drive over the boulders or scale them. Depending on the size of the rocks, you might need an extra two to four inches of clearance. You might not think a few inches would make a difference, but it certainly does! With Mopar Lift Kits, you can increase clearance and much more. You'll find Mopar Lift Kits available at our Jeep service center in Springfield. With these kits, you'll find the parts you need to change the clearance of your vehicle without sacrificing safety or ride comfort.
Mopar Lift Kits come with the following:
Coil spring
Shocks
Adjustable alignment cams
Track bar
Stabilizer links with Heim ends
Cable relocation brackets
Replacement high-clearance steering stabilizer kit
All the connectors and materials needed to install
As you can see, Mopar Lift Kits come with a wide array of parts. Because of this, it's important to seek out our service center. We'll be more than happy to equip your ride with these essential parts. In fact, we'll have you back on the road in no time at all.
2″ and 4" Mopar Lift Kit Features
Ideally rated coil springs, combined with your choice of specially tuned shock absorbers, provide unmatched ride quality and handling, both on-road and on the trails. Drivers can choose between Mopar's Performance shock or the premium Bilstein Shock. Adjustable alignment cams correct caster angle while the front body / frame alignment corrects by an adjustable track bar. As far as the rear is concerned, it is handled via track bar relocation bracket with integrated brace. You'll also be able to correct length stabilizer with Heim ends. Another important feature is the replacement high-clearance, high capacity steering stabilizer kit. These kits work with all vehicle systems, including Electronic Stability Control.
Suspension Upgrades
Keep your RAM in precise control when you venture off-road. A suspension upgrade featuring stabilizer bar, quick-disconnects, and high articulation link arms should do the trick. The goal is "maximum, controlled and bind-free articulation." In the off-road world, articulation is how the vehicle's suspension will "twist" on uneven surfaces in an effort to keep all tires in contact with the trail. Mopar offers two options to further increase the already phenomenal suspension articulation afforded by our 2″ and 4″ Lift Kits: shocks and stabilizers.
Shocks and Stabilizers
Make your next rocky road experience a smooth one with new shocks and stabilizers. These are the same shocks packaged with Mopar's Lift Kits. Feel free to order when upgrading from Performance Series to Premium Bilstein, or when needing service replacements. The performance Series shock is a twin-tube, high capacity hydraulic shock that features ten-stage velocity sensitive valving. White enamel finish with black boot is included.
Differential Protection
Differential protection shields your underside from the perils of the off-road. No matter how rough it is out there, we've got you covered.
Installation, Safety and Warranty
The use of 35″ or larger diameter tires may require modification to the installed Mopar. Aftermarket components for adequate clearance vehicle RPM and speedometer readings are based on the stock vehicle's tire and wheel combinations. Installing larger wheels and tires with your Mopar Performance Lift Kit could result in incorrect RPM, as well as incorrect speedometer and odometer readings. Lift Kits alter vehicle properties and effect handling, but don't worry – your kit will come with more detailed instructions and warnings. Lift Kits work with all vehicle systems, including the Electronic Stability Control, and are covered by a Limited Lifetime Warranty. The Lift Kit warrantor is the Lift Kit Manufacturer, not Mopar, Chrysler Group LLC, or the dealership selling the product.
Questions? Don't hesitate to call us. Our friendly team members are on standby, ready to assist you in any way and answer your questions.
Who Can Help Equip Your Mopar Lift Kit To Your Ride?
Visit Safford CDJR of Springfield and come see our service center. We provide top-quality maintenance at our service center. In fact, our team of experts will work hard to install your Mopar Lift Kit and help get you back on the road in no time at all. Schedule a service appointment online today! Now offered with the Wrangler models, including the Wrangler JL, you'll be happy to have your Jeep equipped with all that the Mopar Lift Kits have to offer!
Our dealership is conveniently located at 7611 Loisdale Road, Springfield, VA 22150, which means residents of Alexandria, Fort Belvoir, and Annandale are just a short drive away. Once you're here, our friendly and dependable team members will work on your ride and even show you around our dealership. Who knows – you might find your dream ride when you stop by! We look forward to seeing you soon.